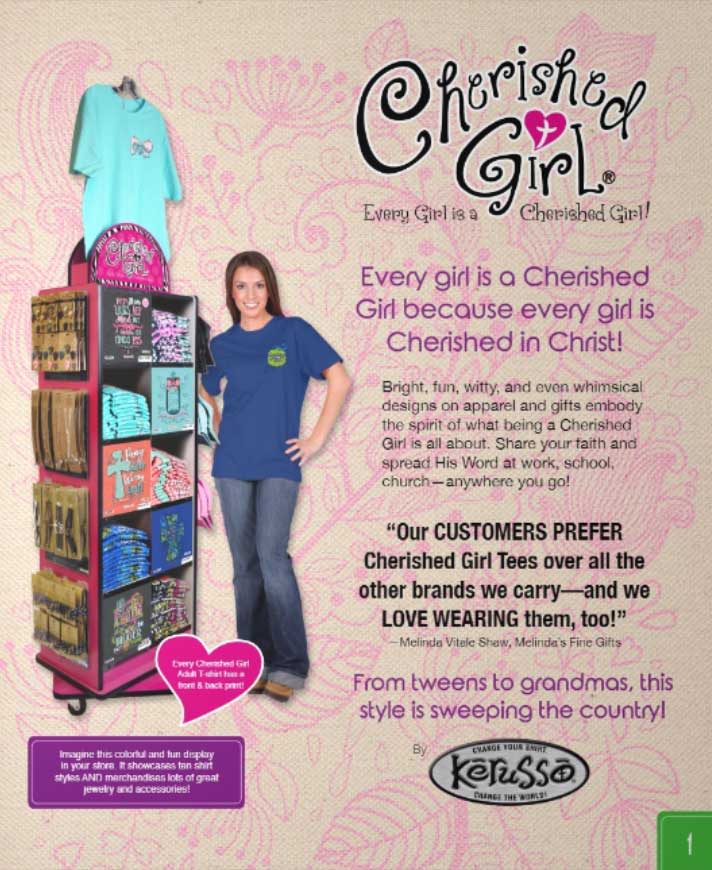 Start Selling Cherished Girl T-shirts
If you are a retailer with a valid sales tax ID who would like to learn more about selling Cherished Girl products and request a catalog, please fill out the form below. 
Start Selling Cherished Girl
Your female customers are always looking for the newest, freshest and fun t-shirts. That's why you owe it to them to start selling Cherished Girl apparel. Wholesale Cherished Girl T-Shirts have quickly become one of our best-selling lines. Girly girls of all ages don't limit themselves to just one Cherished Girl T-Shirt, they buy multiples time and time again. When you start selling Cherished Girl T-Shirts, you will be offering Christian T-Shirts that are full of vibrant colors, thoughtful and funny messages, and a focus on the faith that your customers truly do cherish.
Cherished Girl T-Shirts
Cherished Girl T-Shirts are loved by girls of all ages. If you haven't taken advantage of the great margins that are offered on our Christian T-Shirts, you need to connect with us today. It's as easy as filling out the form on this page and we will contact you right away. Take advantage of the growing demand for Cherished Girl T-Shirts and set your business apart by offering this unique line of Christian apparel. When you partner with us, we not only provide you with amazing products that sell, we can supply you with merchandising tools that will help grab your customer's attention.
Cherished Girl Gifts
Cherished Girl Gifts are the perfect addition to your product mix. Each gift features an inspiring message from God's word. So, when your customers want a gift that doesn't just look cool but also shares their faith, they will be buying Cherished Girl Gifts. With a minimum order of only $250.00, we've made it easy for you to experience the sales that Cherished Girl Gifts produce for you. As the Cherished Girl brand continues to grow in popularity, your store can become a destination for buyers. Contact us today to get started.
Cherished Girl Jewelry
Each piece of Cherished Girl jewelry is attention-grabbing, eye-catching and priced to move. Featuring encouraging messages from the Bible and designed with today's fashion in mind, your customers won't be able to buy just one. With our excellent margins and outstanding customer service, you can connect with us today and be that much closer to generating new sales. Here are the Top Seven reasons that thousands of retailers around the world partner with Kerusso:
27 Yrs Experience in Christian Apparel
$250 Minimum on first order
Outstanding margins on all products
Free Shipping
Free Display
Printed in the U.S.A.
Manufactured with high quality materials
Personalized and custom tees are available
Largest sales and customer service team within the Christian apparel category
Proven merchandising systems for products that produce significant sales within small spaces
Now is the time for you to tap into the $4.6 billion Christian product industry by starting to sell Cherished Girl T-Shirts. Don't put it off and let new sales walk out your door. Simply fill out the form here and one of our #1 ranked customer service team members will be in touch with you right away.