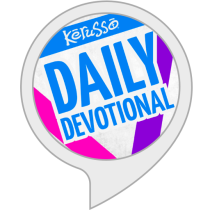 Kerusso® On the Go
Kerusso® Daily Devotions help you make more room for Jesus. Here you'll find faith, hope, and joy — bite-sized moments of inspiration for busy believers.
90-second devotional readings to inspire and encourage you
Connect to God's Word on a personal level
Meaningful themes and historical stories influenced by the Bible
Various Biblical translations including NIV, KJV, ESV, and NLT
Professionally recorded audio of original content.
What Listeners are Saying
The best Christian skill on Alexa!
"I have been trying out different Christian Alexa skills, and this is the best I have found! So happy for this because it helps give me a positive start for my day on my walk through Christ."
-- Courtney, KDD listener
**Definitely a daily inspiration...**
"I love listening to the Kerusso Daily Devotional on my flash briefing. It's inspiring and lets me start my day in a positive note. God Bless!!!"
-- Smiletodagney, KDD listener
The best way to start my day with a positive outlook!
I've loved Kerusso products for years! Now I can get a daily devotional from them on my Echo every day when I check my news and weather. HIGHLY recommended if you're looking for a positive devotional to help you grow closer in your walk with our Lord.

-- Jeffrey Smith & Sebrina Smith, KDD listeners
---
THE QUICK AND EASY WAY TO LISTEN
Say, "Alexa, play the Kerusso Daily Devotional"
TO ENABLE A REGULAR SKILL

Simply say, "Alexa, enable [skill name]." You can also add a skill by using the Alexa app and selecting your desired skill.
TO ADD A SKILL TO YOUR FLASH BRIEFING, aka ALEXA BRIEF

1. Go to the menu in the Amazon Alexa app and select Settings.
2. Scroll down to the Alexa Preferences section and select Flash Briefing.
3. Select Get more Flash Briefing content.
4. Type Kerusso Daily Devotional in the search box.
5. Click the Enable button.
TIPS
On the Flash Briefing screen in your Settings, select Edit Order to arrange programs on your Flash Briefing.

To listen to the Flash Briefing say: "Alexa, what's my Flash Briefing?" or "Alexa, what's the news?"
---
WHERE ELSE CAN YOU FIND THE KERUSSO DAILY DEVOTIONAL?