Proclaiming the Good News to the world through products about Jesus.

Dear Friend,
Have you ever stopped to think about the impact you're making every time you dress in a Kerusso® T-shirt?
Researchers have found that the average T-shirt has the potential to be read as many as 3,000 times in its lifespan.
That's 3,000 opportunities for the Gospel to be shared.
3,000 potential moments of encouragement.
3,000 chances to change someone's life...for eternity!
Kerusso is on a mission to share the Good News on T-shirts, jewelry, and gifts that point to Jesus, and you are part of the movement every time you wear or give one of our products.
When our team of artists adds the last hand-drawn detail to a new design, they're thinking of how to inspire you to share Jesus with the people around you.
When our production team works together to print a new collection of shirts, they pay attention to every aspect of the process to make sure your shirt has a long life of Gospel-sharing.
When one of our writers unpacks the Bible verse and theme for a specific design, they are doing it to bless, encourage, and equip you to change lives with the Good News of Jesus Christ.
God bless you for the role you play in helping us 'kerusso' the Good News about Jesus Christ. We consider you an honorary member of Team Kerusso, and we're grateful for the vital role you play in our mission.
Sincerely,

With Kerusso Christian T-Shirts, participating in T-Shirt Evangelism is easy, fun, and life-changing. According to Impressions magazine (the leading apparel supplier magazine), a graphic T-Shirt will be read as many as 3,000 times in its existence. T-Shirt Evangelism has the potential to preach the gospel to millions, if not billions, of people who need to hear the message of salvation.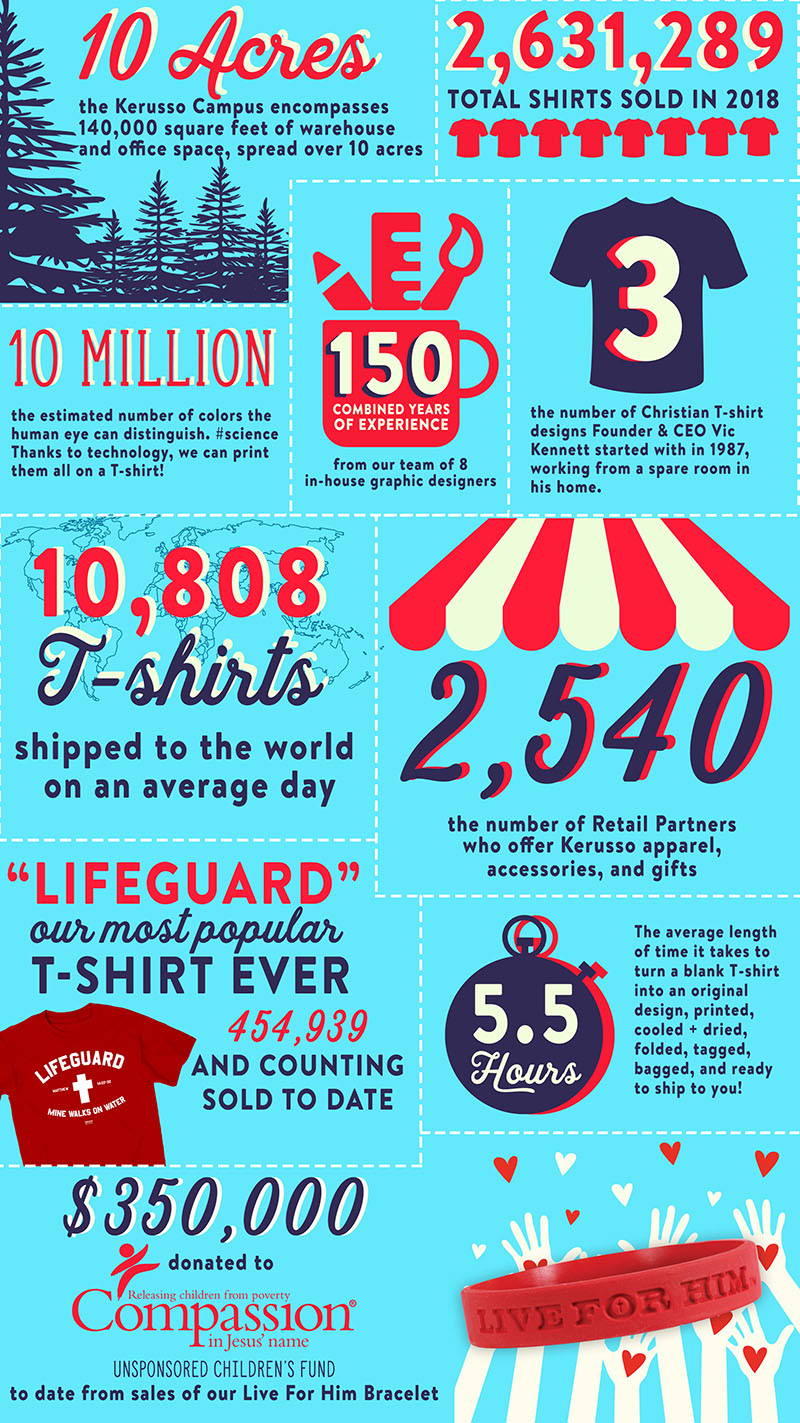 HOLD FAST™ Collection makes its debut 2019
Guys love these new looks designed especially for the rugged individualist who follows Jesus, takes care of business and his family. He's proud to be an American, and oh yeah — he's not ashamed of his faith, either!
Kerusso® hits #8 on the giftBEAT List 2018
Kerusso is ranked #8 on industry publication giftBEAT's list of The Industry's Top Selling Lines: T-SHIRTS. Customers love our faith-based styles, and retailers reap the rewards.
Kerusso® ACTIVE sprints onto the scene 2017
Your T-shirt should work as hard as you do! Kerusso ACTIVE is our answer to the Christian consumer's desire for quality, functional apparel that meets your needs on the field, the street, and beyond. Athleisure is a fashion movement with staying power, and broad appeal beyond the soccer field or jogging path.
Catch Up with Jesus Parody Tee joins the family 2016
Kudos to this popular T-shirt recalling everyone's favorite American staple: Ketchup! For those of you who put ketchup-on-their-ketchup, we offer Catch Up T-shirts for Kids, ball caps, and a tasty lineup of condiment-inspired tops including Mustard, Relish, and Mayo.
grace & truth® Collection makes its debut 2016
Modern women work hard and fill a variety of roles, and we think her wardrobe should, too. The grace & truth Collection meets her style checklist while offering premium comfort and wearability at home, school, on the go, or at the office under a posh jacket.
Live for Him // Compassion International 2007
You asked for a bold, simple, and affordable way to make an impact, and Kerusso delivered. Live for Him red silicone bracelets are designed with nonprofit Compassion International to support the Unsponsored Children's Fund. To date more than $350,000 has been raised to lift-up children around the world in Jesus' name.
Faith Gear® inspirational jewelry launches 1998
Fans of faith-based apparel want more than T-shirts, and quality faith-based accessories have become a valuable component of our brand. Faith Gear jewelry ranges from vintage-inspired necklaces to contemporary bracelets to rugged leather keychains for believers who seek to add encouraging bling to their casual wardrobe.
In 2007, Kerusso partnered with Compassion International and launched the "Live For Him" project. To date, Kerusso has donated over $350,000 to Compassion through the sales of Live For Him products which include Live For Him Red Wristbands, Live For Him T-Shirts, Live For Him Caps and Live For Him Jewelry.