Kerusso® CEO and Founder Vic Kennett delivers 200 custom earbuds to Mindy Hicks, District Test Coordinator / School and Community Relations Coordinator for Berryville Public Schools and the coordinator for Bright Futuresf4fa47682b Berryville.
Kerusso is a proud supporter of Bright Futures Berryville, a nonprofit organization that helps schools connect student needs with resources in their community. This year, the company provided 200 pairs of custom earbuds for elementary students in Berryville, Arkansas, helping to ensure local kids have what they need to thrive at school.
___________________________________
Bright Futures Berryville is celebrating their fourth year of making an impact in the lives of students in Northwest Arkansas through their annual back-to-school Stuff the Bus campaign. School looks a little different this year in the midst of a pandemic, but the community, and local businesses, continue to rise to the occasion by donating the supplies kids need for a productive year at school.
Bright Futures USA is a nonprofit organization based in Joplin, Missouri, that helps schools connect student needs with resources that already exist in their community, bringing together businesses, human service agencies, faith-based organizations, and parent groups to quickly and efficiently meet students' basic needs – often within 24 hours. This enables students and teachers to focus on education and achieving success, organizers say.
Bright Futures operates under the belief that when communities invest their time, talent, and treasure in their schools, students are more likely to stay in school through graduation, have a higher degree of self-worth and confidence, and set and reach goals for the future. In turn, these students grow up to be better neighbors, quality employees, and impactful leaders in their communities.
Kerusso® has supported Bright Futures Berryville in the past, and is proud to continue their support in 2020. This year, the faith-based apparel company donated 200 custom earbuds to the organization's Stuff the Bus campaign. Technology is an increasingly important aspect of classroom learning, and kids need earbuds or headphones to successfully participate at school and at home with laptops and other devices. The possibility of distance learning this school year makes equipment like this especially important for students.

"When it comes to school, we don't want basic needs to stand in the way of children learning or feeling like they belong," says Berryville Bright Futures coordinator, Mindy Hicks.
"It softens the anxiety of starting school, because every child has the opportunity to have new supplies on day one," Hicks says. "This is good for parents and teachers, too. School supplies are expensive. So, when the community comes together it takes the burden off of parents and teachers who would otherwise pay out of pocket for an irregular expense."
Student needs arise individually throughout the school year, and some are posted on the group's Facebook page. "I have been completely overwhelmed at the community's response to Bright Futures Berryville; the willingness of our community members to take care of students' needs is just amazing," Hicks added. "Many in our community did not know – and many still do not know – just how sad the situations are that our students deal with daily. As word is getting out, the more involved people have become."
Donations Meeting Students' Needs through Bright Futures
Kerusso became aware of the Bright Futures program a few years ago, says Founder and CEO, Vic Kennett. Two Kerusso employees, Amy Campbell and Lori Holland, have served on Bright Futures site councils at the middle and intermediate schools, respectively.
"We are honored to be able to donate to Bright Futures Berryville, and we are grateful for the organization's work for our local students," Kennett said. "This program is a great example of putting faith in motion. We believe helping organizations like Bright Futures is part of our calling and goes hand in hand with scripture instructing Christ-followers to help those in need."
In addition to school supplies, cash and other donations are also vital to the work of Bright Futures. Hicks explains, "We have a lot of kids who just struggle to be dressed appropriately. Shoes are always a need; we also have students who are hungry. Those are the needs that are always visible to the staff in the district."
"Another area we address is providing education to our families, and encouraging and supporting them to break the poverty cycle," Hicks says. "We don't want our program to be only a hand out, but also a hand up."
Working with the community and "seeing the love and generosity toward our students" has been a big blessing for Hicks. "And the site council leaders and school staff have been blessed by seeing our students' smiles and responses," she added. "I hope our community has been blessed by being a part of the program."
Kerusso employees were thrilled to be able to assist the Bright Futures program, Kennett said. "We are in the business of spreading the message of God's love wherever we can," he said. "It is wonderful to be able to do so here at home – and through a worthy program that is having such a big and immediate impact on students' lives every day."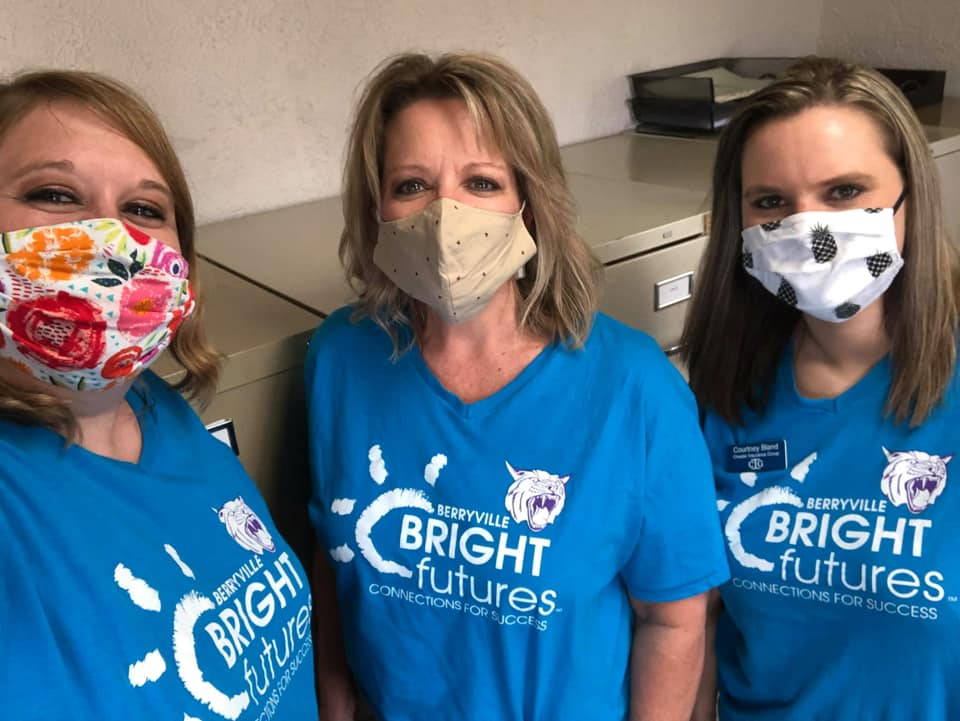 Bright Futures Berryville sells T-shirts during the school year, with proceeds helping to meet students' needs, such as purchasing clothing or shoes for students in need, or providing snacks for disadvantaged kids. To inquire about ordering a T-shirt or making a donation, email MHicks@bobcat.k12.ar.us