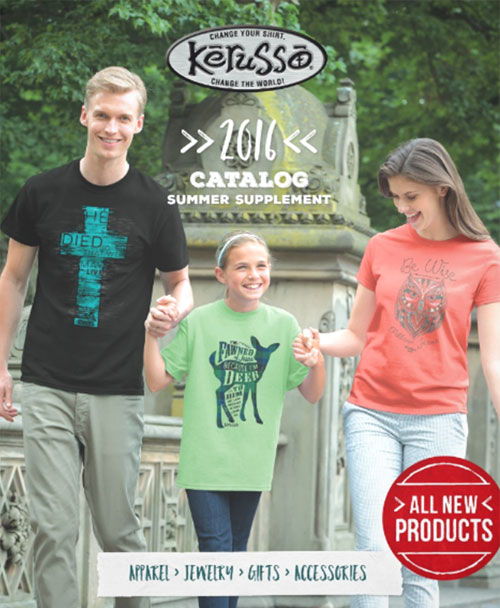 Request A Wholesale Catalog
If you are a retailer with a valid sales tax ID who would like to learn more about selling Kerusso products and request a catalog, please fill out the form below. Note: We no longer permit sales of our products through online portal sites like Amazon, Walmart, Sears, eBay, etc.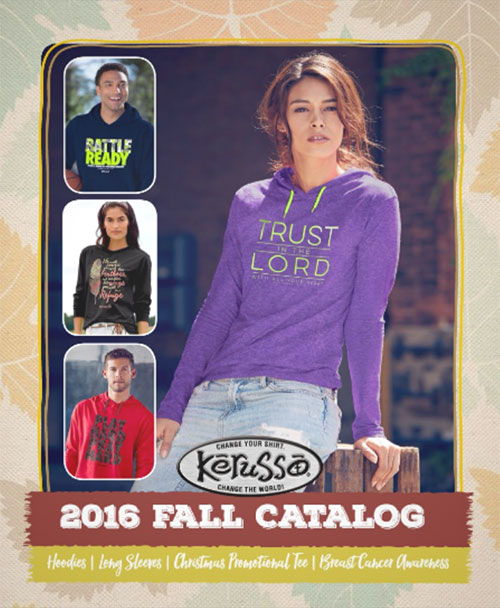 Request A Wholesale Catalog
If you are a retailer with a valid sale tax ID number, you can request our Kerusso catalog, featuring our full line of Christian Apparel, Christian Gifts, Christian Jewelry and Christian Accessories, simply by filling out the form on this page. Our catalog also showcases our award-winning products and innovative merchandising solutions that help retailers achieve significant sales in small spaces.
Why Sell Kerusso Products?
Great Margins On Tees, Jewelry, & Gifts
$250 Minimum on first order
Free Shipping
30 Yrs Experience in Christian Apparel
Offer Personalized and Custom Tees as well
we no longer permit sales of our products through online portal sites like Amazon, Walmart, Sears, eBay, etc.
Help us provide you with the information you need to succeed by completing all fields.
Kerusso Wholesale Catalog
We are excited to share the ever-growing line of best-selling Kerusso products. Each catalog features our Christian Tees that are printed right here in the U.S.A. You will also have the inside track to all of our products that are manufactured with high quality materials tested to meet all government requirements.Request your Kerusso Wholesale Catalog today by providing your information in the form below. We will process your request quickly and get your catalog in the mail.
Cherished Girl Catalog
Get your new Cherished Girl Catalog today! The all-new Cherished Girl catalog features the latest Cherished Girl T-shirts, Cherished Girl Gifts and Cherished Girl Jewelry. Discover the Christian apparel line that girls of all ages, around the world, are buying as fast as we can print them.
Inside your Cherished Girl Catalog you will find tips and tricks to help you sell even more. You will also see how our merchandising tools can help you maximize sales using very little floor space. Fill out the form and your Cherished Girl Catalog will be on its way!
Faith Gear Catalog
The Faith Gear Catalog keeps you up-to-date with the latest trends, fashion and quality at the best price. Take a peek at the latest Christian apparel, gifts and jewelry showcased in the Faith Gear Catalog and see why Kerusso products are voted #1 by retailers year after year. In addition, Kerusso backs their products with great service from the category's largest sales and customer service team.
Request your Faith Gear Catalog today to experience this unbeatable combination!
Kerusso Kidz Catalog
Kerusso Kidz apparel is always in high demand. If you aren't already receiving the Kerusso Kidz catalog you are missing out. Each issue will bring you up to speed on the newest and best-selling Kerusso Kidz t-shirts.
Please fill out the form on this page to request your Kerusso Kidz Catalog.
Christian Gift Catalog
The Kerusso Christian Gift Catalog features all of our new and best-selling Christian Gifts. When you sign up to receive our Christian Gift Catalog, you will always be among the first to know about the next big hit. You will discover the unique, one-of-a-kind, scripture-filled Christian Gifts that are increasing sales for retailers everywhere.
Request your Christian Gift Catalog today by filling out this form.