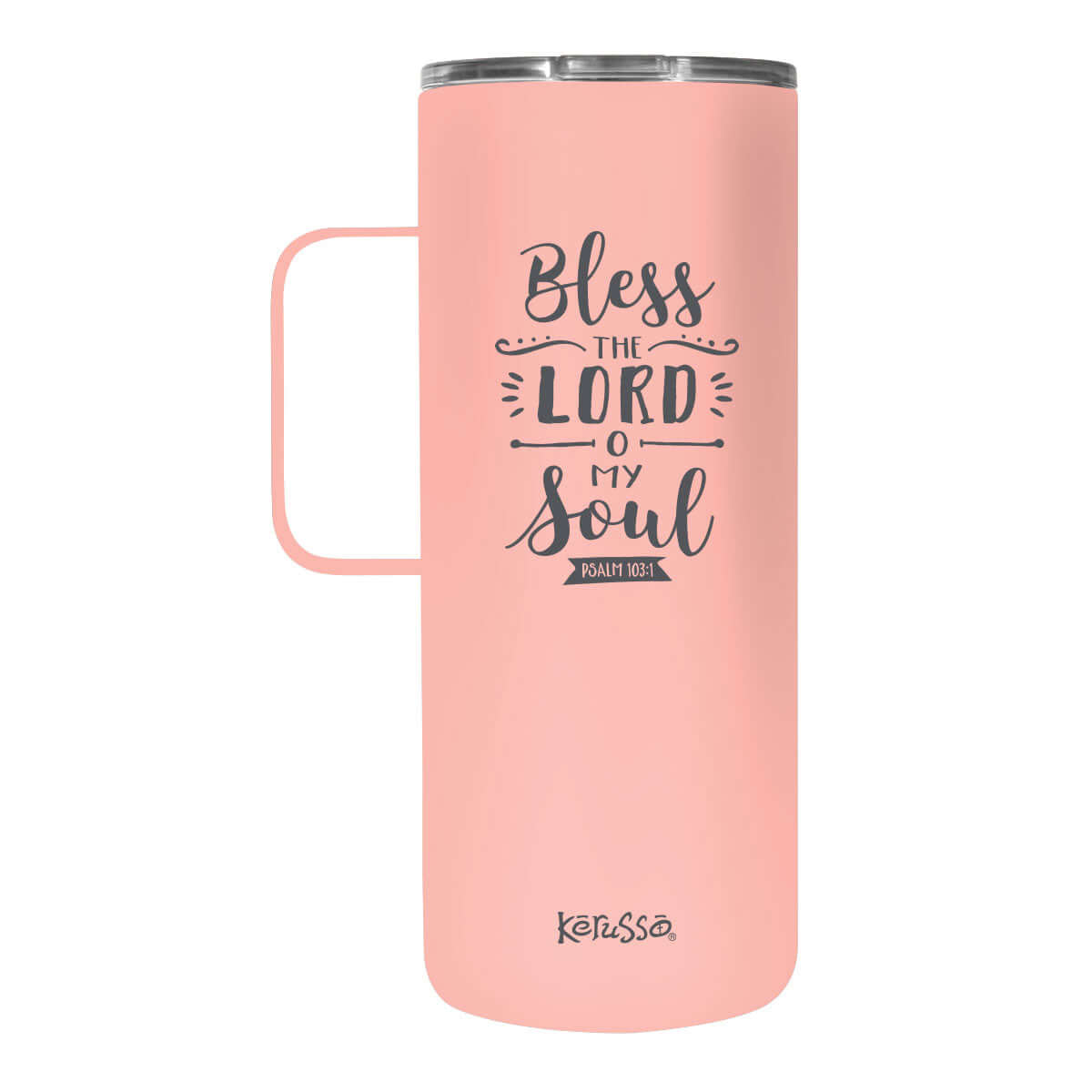 Kerusso 22 oz Stainless Steel Tumbler With Handle Bless The Lord
Don't see your size in stock? Click on size, enter your email address, we'll let you know when it's available.
Sing praises to God with every sip from this sweet "Bless The Lord" Kerusso® 22 oz. Stainless Steel Mug with Handle in Peach. When we love and follow God, we are grateful for every good thing in our lives — no matter our circumstances. We can wake each morning grateful for the breath in our lungs, for the knowledge that we are beloved children of the King of Kings, for a roof over our heads, food to eat, and people to love. We can bless the name of the Lord, come what may. This contemporary handled mug is designed to fit most car cup holders, is sweat-free, and keeps drinks piping hot or ice-cold for hours. It's a practical vessel for home, work, or the car.
Psalm 103:1 says, "Praise the Lord, my soul; all my inmost being, praise his holy name." God's Holy Word, the Bible, commands us to lift the name of the Lord in praise, from the very depths of our soul. What a privilege to know, and be known, by the Most-High, God! He invites us to worship Him, to acknowledge His goodness, and to focus on His holiness. Bless the Lord!
Imagine what an impression it makes on others, to watch someone who believes in Jesus lift up His holy name even in times of trial. To praise God, even when things don't go our way. The world is watching, and we can be a beacon of hope and a source of inspiration as we lean into faith and praise the name of the Lord.
Kerusso® 22 oz Stainless Steel Tumbler With Handle - Bless The Lord
Color: Peach
22 oz. capacity
Kitchen-grade Stainless Steel
Convenient handle and slide lid
Dual-walled, Vacuum-sealed
Sweat-free (No more coffee table rings!)
Keeps drinks hot or cold for hours
Hand wash only